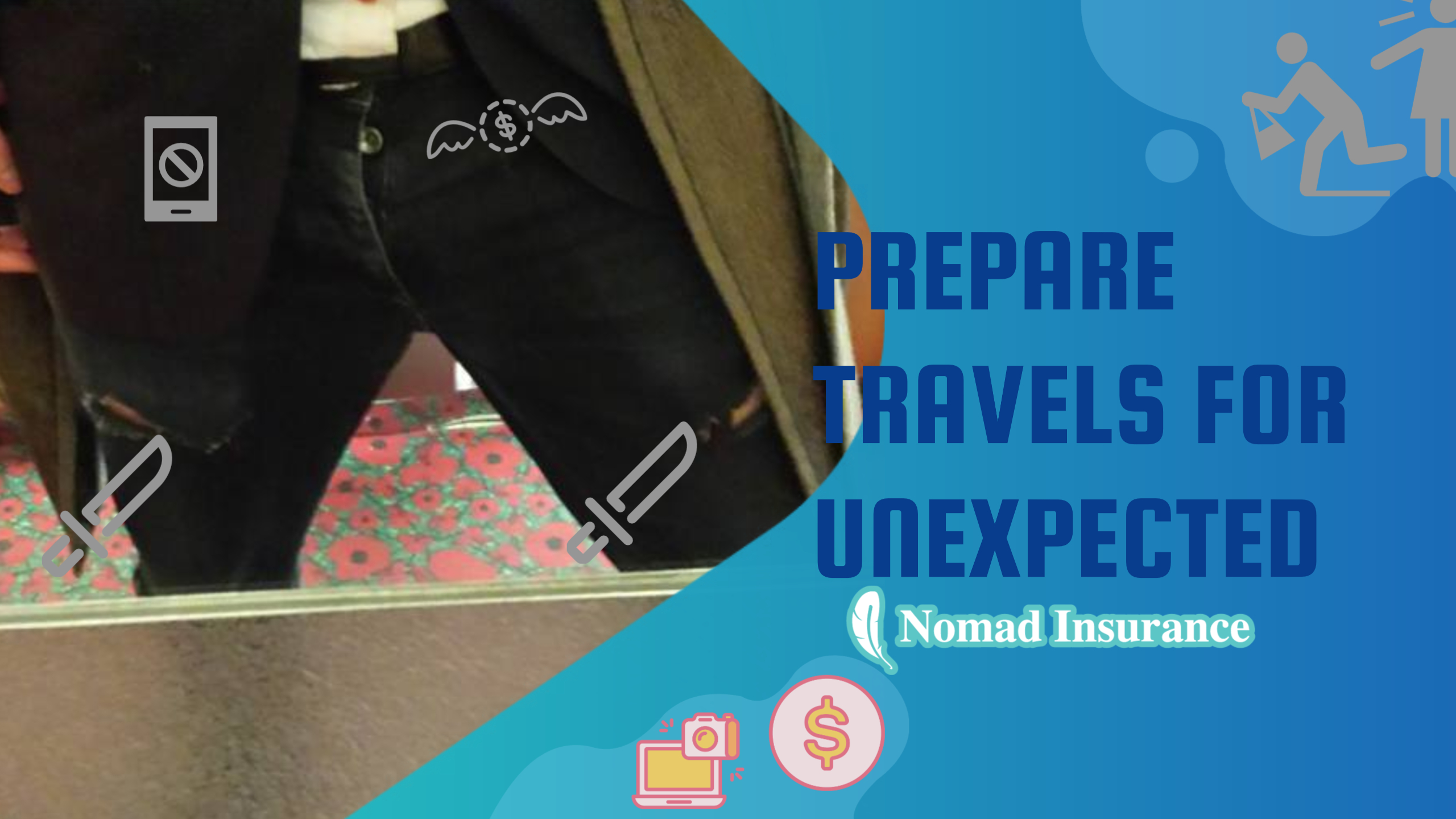 ---
---
Over the years, having traveled in more than 50 countries, I've had several issues that unfortunately happen to many if not most travelers, are unexpected and troublesome, and have no solution, except making sure before the trip that you're ready for any situation.
Here's what happened to me personally, why I unfortunately lost a lot because I wasn't properly covered, and how you could - and we all should - plan accordingly to make the best of these situations!
I got kidnapped in Ukraine, and got nothing at all
The story of how I got kidnapped and left for dead in Ukraine
Once during one of my weekend trips to visit friends in Kyiv, Ukraine and enjoy amazing winter activities, while I was working remotely as a digital nomad based in Dusseldorf, Germany, we decided to party with a couple of friends after visiting the sauna with a larger group of friends.
It was in January, in winter, and the whole country was covered with snow, with temperatures around minus 20 degrees Celsius, or around minus 4 degrees Fahrenheit.
We started by visiting a dancing club, and as it was closing around 4am, we went to an after party club somewhere in the city center - not the first time I've been there, but definitely my last time.
My friends were sitting at a table close to the bar and could see me order another round of beers from the bar, which I also remember.
Next thing I remember, is waking up on the backseats of a car, with one passenger sitting next to me and another one from the shotgun seat, the later that punched my in the face to wake me up, both waving knives at me and putting them under my throat.
The passenger on the shotgun seat starting waving my debit card, I only went out with one card and a little bit of cash, and told me give me your PIN code if you wanna live, which I did.
After that, they pepper sprayed me and just dumped me out of the car, and left me there, in the middle of a snowy field, in the middle of nowhere in the Ukrainian plain, haggard, hangover, could barely open my eyes due to the pepper spray, cold and without anything left in my pocket.
They had actually stolen everything I got with myself, which included my smartphone, my wallet with my main debit card and around $100 in cash, and that also included my hotel keycard, and had cut my jeans' pockets open.
Long story short, I've walked on the frozen fields for a few hours, found a bus that took me for free to the city, took a taxi to the hotel and then asked him nicely to wait for payment. Hotel reception knew me, issued me a new keycard, which I used to get some cash in my room's locker to pay for the taxi, and started checking what to do in this situation.
I checked my bank account online (at that time, I didn't have a good travel banking system set-up), and they had already withdrawn cash up to the maximum limit, which was 800€ with this card. As it was a Saturdy, impossible to contact the bank nor to do anything on weekends.
I found a friend that took me to the police station to prepare a statement for the insurance, but police wouldn't want to write down that I was robbed and kidnapped, as it would mean the embassy would hear about it and they'd have to do a full investigation, which would be a loss of time, as I barely remembered anything interesting.
Also, as my memories were blurry, I didn't remember when I got pepper sprayed, nor though it mattered - one second I was threatened in a random car, the second after I was out in the snow crying due to the spray. Or it appears that it was impossible to be sprayed inside the car, but I didn't remember at which point it happened, and so they didn't believe me.
As I didn't get any proper paper, insurance payed nothing back. 800€ lost from card withdrawals, 100€ lost cash, and a phone bought few months earlier worth 400€ also lost, plus the jeans cut open.
How to handle getting kidnapped
First of all, to avoid getting drugged, in your home country or elsewhere, never leave your drink out of your sight, and only drink from factory sealed bottles. In some places, other guests might use a short opportunity to put something inside your drink, or the staff at the bar might even be acquainted and help them while serving your beverage.
Second of all, if you ever have to go to the police to report something like that, get a local translator with you, and repeat with them the story several times to have it straight, so you won't hesitate when police asks you question and will provide a clear timeline and cascade of information.
Third of all, before any travel, make sure you're properly prepared, with an appropriate travel insurance, and have secured proofs of purchases of anything of value you are taking with yourself, such as smartphones, and leave everything that isn't absolutely necessary in your hotel's locker, such as your passport, and go out with quality passport copy only.
I got phone robbed in Bali, and had to buy a new phone alone
The story of how I got robbed in Bali
During my year long  World Tour   2019 in which I visited around 20 countries while doing a round trip around the world, I did spend one month in Bali, from where I worked remotely and had an amazing work life balance, with every day the exact same routine:
Wake up around 8 am, have a swim when pool opens,
Have breakfast after swim,
Short walk while the sun isn't too strong,
Work most of the day until sun is down around 5pm,
Walk to the beach for live music, drinks and dinner.
One day on my first week there, I've decided to join a party in a club for a few hours, staying not so long until 1 am. As the club was at walking distance, around a kilomoter away or half a mile, I've decided to walk back from club to hotel.
To save some time as it wasn't actually a straight line walking back home, I went through some small streets, one of them having barely any street lighting, I used my phone's flashlight to check where I was walking.
At some point, a scooter crossed my path in this small street, and as I wasn't expecting anything, the passenger on the back grabbed my phone when they were passing me, and they drove away.
I actually just purchased the phone a few days ago, as soon as I arrived in Bali, as my previous phone got broken. My card insurance wouldn't do anything as I purchased the phone cash from a local reseller, and anyway their remote support is pretty unhelpful.
How to handle getting robbed at night as a tourists
First of all, at night in another country, it is better to use secure transports and spend an extra dollar for a taxi transportation, and if walking, try not to be alone, and only stay on busy and illuminated streets.
That basic safety instructions laid down, in case a similar situation might ever happens to you, make sure you have electronic receipts of anything you bought of value, such as phones, laptops, and other electronics, so you have them at hand in case something happens.
And also make sure you are covered with a comprehensive travel insurance that covers thefts of electronics, such as SatetyWing Nomad 2.0 insurance with Electronics Theft protection enabled.
This insurance would cover your electronics for up to $1000 for stays of 28 days or longer, which was the case for my year long  World Tour   - unfortunately at that time, I wasn't properly prepared.
In conclusion: how to be prepared for any unfortunate situation as a nomad traveller
Remember the basic advice:
Never leave your drinks out of sight, drink only from factory sealed beverages,
Go out only with the strict necessary such as little cash and passport copy, leave everything valuable locked in hotel,
Have all documents copies available in your personal cloud,
Stay safe !
It is necessary to buy the insurance as soon as you start traveling, and include the extras that you will need, such as adventure sports and electronics theft, and make sure you can access all necessary documents electronically if need be - double check they're all accessible on your personal cloud for example, and that you will be able to access it from any Internet connected device if you ever have to.
The latest SafetyWing Nomad 2.0 insurance offers new add-ons that are giving you the full protection you need, should you travel to USA, go on a adventure sports such as a white water rafting adventure, and electronics theft as it happened to me!
---

About the author - Michel Pinson
Michel Pinson is a Travel enthusiast and Content Creator. Merging passion for education and exploration, he iscommitted to sharing knowledge and inspiring others through captivating educational content. Bringing the world closer together by empowering individuals with global expertise and a sense of wanderlust.
---
---
---