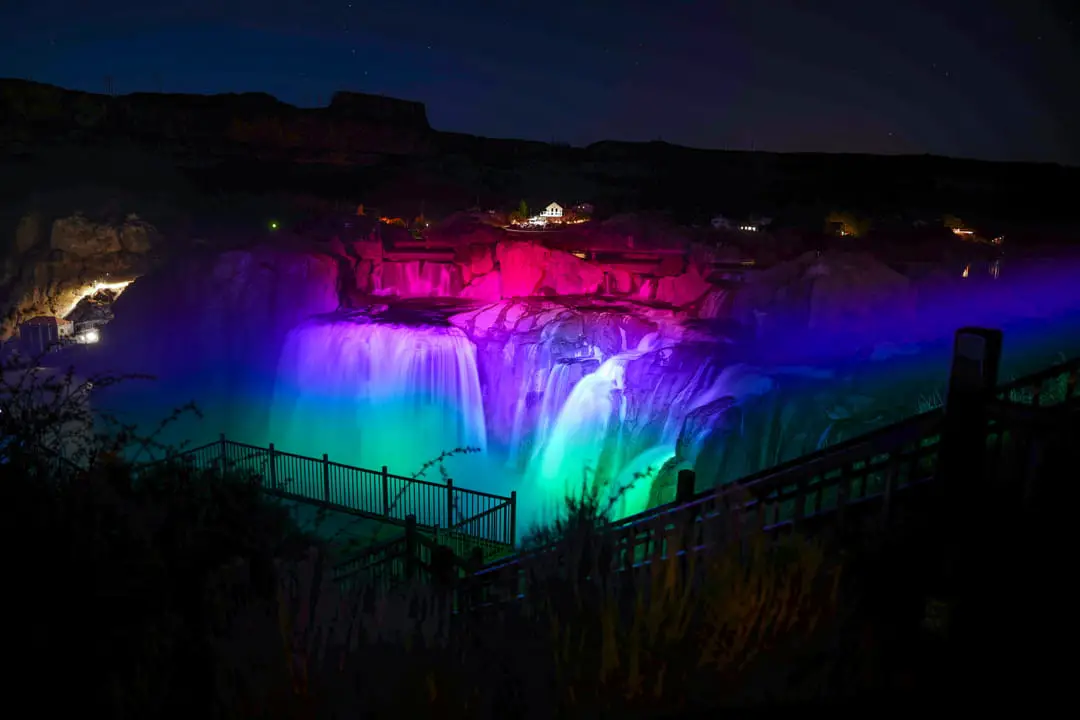 ---
---
TWIN FALLS, Idaho (June 28, 2023) -- Shoshone Falls After Dark is back for a second round of shows this year July 5-9 and July 12-16 due to an increase in water flows.
Southern Idaho Tourism traditionally stages Shoshone Falls After Dark in the spring with the help of Idaho Central Credit Union, Idaho Power, and the City of Twin Falls, and this year's events in April and May quickly sold out. They were inspired to serve up a second helping after learning water flows over the falls will be increasing.
The waterfall is flowing so beautifully right now, Southern Idaho Tourism executive director Sarah Rohrbach said, so we thought people might enjoy a few more nights of fun in the canyon under the stars and lights beside one of Idaho's most iconic landmarks.
Like this spring, the presenters are partnering with Midnight Production Studios in Twin Falls to immerse visitors in dazzling lights amid the natural beauty of Shoshone Falls.
Plus, Idaho's famous DJ, Eric Rhodes, will serve up his signature mix of pre-recorded music.
Michael Watson, chief marketing officer at Idaho Central Credit Union, said the financial institution is excited to help bring this popular attraction back for the third consecutive year and is thrilled it has become an annual tradition.
Shoshone Falls is one of Idaho's most beloved places, Watson said. Professionally illuminating the falls after hours is an opportunity we are thrilled to continue to be a part of.
Renowned as the Niagara of the West, Shoshone Falls stands 212 feet tall, 36 feet higher than Niagara Falls.
Viewers will have the opportunity to enter the park after hours and view the falls illuminated with lights choreographed to music with their pre-purchased, timed vehicle ticket. The light show will run for about 20 minutes on a loop until about 10:30 p.m.
Rohrbach expects this second round to sell out and encourages people to get their pre-purchased tickets beforehand. People can get more details and buy tickets at visitsouthidaho.com, and they can contact Southern Idaho Tourism at contact@visitsouthidaho.com for answers to additional questions about the event.
About Idaho Central Credit Union
Idaho Central was organized as a state-chartered credit union in 1940 and has since grown to have over $9.5 billion in assets and serves over 550,000 members throughout Idaho, Washington, and eastern Oregon. ICCU offers a wide variety of financial products including personal and business banking, mortgage services, wealth management, insurance, and more. Idaho Central is a full-service, federally insured financial institution and is ranked as a top credit union in the nation in returning value to its members. For an Idaho Central location near you, please visit ICCU.com.
---
---
---