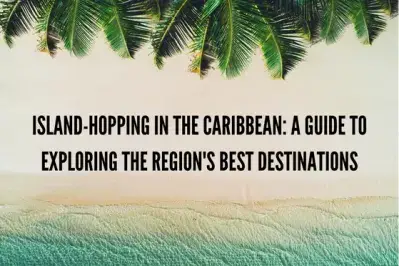 ---
---
Welcome to our island-hopping guide through the Caribbean's finest destinations. With over 700 diverse islands, the region boasts crystal-clear waters, stunning beaches, and a rich cultural tapestry. We're here to help you navigate this tropical paradise, exploring each unique island and the experiences they offer. So, strap on your sandals, grab your sunglasses, and join us as we embark on this unforgettable Caribbean journey.
Let's dive right in and discuss our first captivating destination, the lively and mesmerizing island of Jamaica.
1. Jamaica
Jamaica, renowned for its reggae music and vibrant spirit, promises an unforgettable experience for island-hoppers in the Caribbean. This tropical haven entices travelers with its lush landscapes, pristine beaches, and rich cultural tapestry.
Negril's Seven Mile Beach and Montego Bay's Doctor's Cave Beach offer sun-soaked relaxation, with their azure waters ideal for swimming and snorkeling. Explore the island's natural beauty with a hike in the majestic Blue Mountains, or revel in the magic of the cascading Dunn's River Falls near Ocho Rios.
The island's cultural heartbeat is palpable through its historical landmarks, such as the Bob Marley Museum in Kingston and the Rose Hall Great House in Montego Bay. To experience the authentic essence of Jamaica, wander through lively markets, savor its mouthwatering cuisine, and immerse yourself in the pulsating music scene.
Jamaica captivates visitors with its diverse offerings, whether you seek tranquility, adventure, or cultural immersion. This enchanting Caribbean destination is a must-visit stop on your island-hopping journey, leaving you with memories to cherish for a lifetime.
2. Dominican Republic
The Dominican Republic, situated in the Caribbean's heart, is a charming destination that presents a delightful fusion of picturesque landscapes, rich culture, and exciting escapades. This diverse haven is an essential stop for island-hoppers keen to capture the Caribbean's spirit.
You'll find pristine beaches, like Punta Cana's Bavaro Beach and the striking Playa Rincon in Samaná, offering the perfect backdrop for relaxation and aquatic adventures. Plunge into the colorful underwater world while snorkeling or scuba diving, or simply soak up the sun on the palm-fringed coastlines.
Nature lovers will be drawn to the verdant scenery and dramatic mountain ranges of the Dominican Republic. Set off on a hike to Pico Duarte, the Caribbean's highest peak, or discover the awe-inspiring El Limón waterfall, nestled within the tropical rainforest of the Samaná Peninsula.
For those passionate about history and culture, the island's rich past can be explored through landmarks like Santo Domingo's Zona Colonial and the ancient cave art in Parque Nacional del Este. The Dominican Republic's energetic music, dance, and culinary delights further contribute to an authentic Caribbean experience.
3. St Lucia
St. Lucia is a charming jewel in the Caribbean, appealing to visitors with its verdant, untouched landscapes, peaceful beaches, and sophisticated hideaways. This tranquil island sanctuary is ideal for those seeking a balance of relaxation and adventure, enveloped in an ambiance of tropical elegance.
The island's immaculate beaches, such as the palm-fringed Reduit Beach and the secluded Anse Chastanet, offer an idyllic backdrop for unwinding and enjoying water activities. Submerge in the crystal-clear waters to discover the fascinating marine life or bask in the sun on the golden sands. Remember to consult our comprehensive packing list to ensure you pack all the essentials for your beach getaway.
Nature enthusiasts will be spellbound by St. Lucia's striking Piton Mountains, a UNESCO World Heritage Site boasting breathtaking views and invigorating hikes. The island's lush rainforests, vibrant botanical gardens, and the awe-inspiring Diamond Falls invite you to explore and appreciate the island's diverse natural splendors.
St. Lucia's indulgent accommodations and top-notch spas enhance the experience, merging exceptional comfort with the island's enchanting surroundings. From opulent villas to charming boutique hotels, visitors can relish the ultimate relaxation amid the captivating setting.
4. Aruba
Aruba, a dazzling star in the Caribbean's constellation of islands, captivates travelers with its sun-drenched shores, warm hospitality, and enticing blend of adventure and relaxation. This enchanting destination is a must-visit for those seeking a taste of the Caribbean's laid-back elegance and exhilarating experiences.
The island's gorgeous beaches, including the world-renowned Eagle Beach and the family-friendly Palm Beach, are perfect for both leisurely sunbathing and exciting water sports. Immerse yourself in the turquoise waters to marvel at the vibrant marine life, or try your hand at windsurfing, kiteboarding, or paddleboarding along the sparkling coastlines.
Aruba's diverse landscapes offer endless opportunities for exploration and adventure. Hike through the rugged terrain of Arikok National Park to uncover hidden gems like the Natural Pool, or venture to the dramatic California Lighthouse and enjoy panoramic views of the island's pristine beauty.
Aruba's melting pot of cultural influences is evident in its colorful architecture, lively festivals, and delicious cuisine, which borrows flavors from around the world. Stroll through the bustling streets of Oranjestad, the island's capital, to discover a unique blend of Dutch colonial charm and vibrant Caribbean energy.
Grand Cayman
Grand Cayman is the largest of the Cayman Islands and beckons travelers with its breathtaking beaches, underwater marvels, and air of island refinement.
The stunning beaches on the island, such as the world-famous Seven Mile Beach and the tranquil Rum Point, provide a serene sanctuary for relaxation and water activities. Enjoy the crystal-clear seas by snorkeling or diving to discover the island's flourishing marine life, or set out on a catamaran to view the Caribbean Sea's stunning colors.
Grand Cayman's aquatic wonders extend beyond its shores, with the renowned Stingray City offering an up-close encounter with friendly southern stingrays in their natural habitat. For a unique underwater experience, venture to the magnificent Kittiwake Shipwreck, an artificial reef teeming with marine life.
The island's charm is further enhanced by its delightful culinary scene, which showcases both local flavors and international delights, as well as the vibrant arts and culture that envelop Grand Cayman. Stroll through Camana Bay or explore the colorful Caymanian murals in George Town to fully appreciate the island's vibrant spirit.
6. Barbados
Barbados is a captivating Caribbean gem that enchants travelers from all corners of the globe with its warm, sun-kissed shores, vibrant culture, and fascinating history. As an idyllic island paradise, Barbados promises a diverse and memorable experience for those who seek to discover the hidden treasures of the Caribbean.
Picture yourself at Dover Beach, where the lively atmosphere and laughter of fellow beachgoers fill the air, or escape to the serene seclusion of Bottom Bay, where you can truly relax and unwind. In Barbados, you're sure to find the perfect setting to rejuvenate your soul and create lasting memories.
The lively Oistins Fish Fry is another cultural highlight, where locals and tourists come together to enjoy a vibrant fusion of music, dance, and delectable seafood in a festive atmosphere.
Nature enthusiasts will find themselves captivated by Barbados' lush landscapes, as the island boasts an impressive array of verdant gardens and natural wonders. Outdoor activities such as hiking, bird-watching, and eco-tours provide additional opportunities to explore the island's diverse flora and fauna.
A visit to the Barbados Wildlife Reserve is a must for anyone eager to witness the island's incredible wildlife up close. This tropical sanctuary is home to an assortment of creatures, including the endearing green monkeys, offering guests a fascinating glimpse into the thriving ecosystem that flourishes within Barbados' borders.
For those interested in local flavors and culinary delights, Barbados does not disappoint. With a rich culinary tradition influenced by African, Indian, and British cuisines, the island offers an array of mouthwatering dishes, from spicy fish cakes to succulent pepperpot stew. Food festivals, rum distillery tours, and cooking classes provide additional opportunities for visitors to immerse themselves in the island's diverse and delicious gastronomic scene.
7. Virgin Islands
The Virgin Islands are a collection of Caribbean isles with secluded shores, an alluring culture, and an inviting ambiance. Travelers looking to discover the Caribbean's wonders and attractions will love this enthralling collection of islands.
The islands are adorned with an exquisite array of beaches, such as the serene Maho Bay on St. John and the striking Coki Point on St. Thomas, which create perfect settings for leisurely pursuits and marine adventures. Enjoy the calm waves on a catamaran while you snorkel or sail the turquoise waters, surrounded by vibrant coral reefs.
The Virgin Islands possess a captivating cultural tapestry, with historical landmarks and bustling local communities adding to their enchantment. Stroll through the charming lanes of Christiansted on St. Croix, admiring the harmonious blend of Danish and Caribbean architecture, or soak up the spirited atmosphere of Red Hook on St. Thomas while savoring mouthwatering island cuisine.
There are plenty of natural parks in the Virgin Islands, including Virgin Islands National Park on St. John and Salt River Bay National Historical Park on St. Croix. The diverse flora and fauna that flourish in these tropical havens will amaze travelers.
8. Turks & Caicos Islands
Turks & Caicos Islands is another idyllic Caribbean paradise surrounded by cerulean waters and powdery white sands. Among the Caribbean's treasure trove of exotic destinations, these sun-kissed islands are sure to inspire awe and ignite an adventurer's spirit.
Turks & Caicos is an amazing archipelago of forty islets if you want an unforgettable experience. The enchanting beauty and unspoiled splendor of Grace Bay attract sunseekers. Here, you can find luxurious villas that offer the perfect oasis for rest and relaxation between your island adventures. In Columbus National Marine Park, coral reefs teeming with a kaleidoscope of marine life, offering a sight that will delight beginners and experts alike.
Enjoy the rich tapestry of island culture by interacting with the charming locals and eating their yummy food. A world of pure epicurean delight awaits your taste buds, from the savory aroma of freshly caught seafood to the tantalizing flavors of cracked conch.
As the sun sets, immerse yourself in the Turks & Caicos Islands' invigorating nightlife. Dance the night away under a canopy of twinkling stars or sip on a handcrafted cocktail as you marvel at the breathtaking island vistas.
9. Guadeloupe
Embark on an enchanting vacation to the beautiful isle of Guadeloupe, the veritable jewel of the Caribbean. This French archipelago, nestled amid azure waters and swaying palms, beckons travelers with its irresistible allure, promising a haven of relaxation, culture, and adventure.
Step ashore to the melodic sounds of the Gwoka drum, the rhythmic heartbeat of Guadeloupean culture. Stroll through fragrant spice markets, where the scent of cinnamon and nutmeg mingles with the warm, salty breeze. Savor the island's exquisite cuisine, a delightful fusion of French and Creole flavors, in cozy restaurants and charming beachside eateries.
You can experience the sublime beauty of Guadeloupe's contrasting landscapes, from the lush rainforests of Basse-Terre to the rolling hills and golden sands of Grande-Terre. Delve into the island's rich history with visits to centuries-old sugar mills, forts, and museums, then immerse yourself in the vibrant arts scene, from bustling artisan markets to captivating dance performances.
Adventure seekers will relish the opportunities for exploration, whether trekking to the summit of the mighty La Soufrière volcano, navigating the pristine mangroves of the Grand Cul-de-Sac Marin, or diving amongst the kaleidoscopic coral reefs that teem with marine life.
You'll be amazed by Guadeloupe's allure, a Caribbean oasis that promises memories for a lifetime.
10. Bahamas
Picture yourself basking in the golden glow of the sun, with powdery white sands caressing your toes and the alluring azure waves whispering sweet nothings in your ears. Welcome to the Bahamas, a dreamlike archipelago nestled in the heart of the Caribbean, where the rhythmic calypso tunes entwine with the melody of the gentle trade winds.
Embark on an island-hopping adventure that unveils the myriad charms of this tropical paradise. Commence your journey in Nassau, the vibrant capital brimming with colonial charm and bustling straw markets, before venturing to the captivating Blue Holes of Andros, a labyrinthine underwater world that beckons divers from across the globe.
Sail onwards to the Exumas, where the ethereal sandbars meld with the cerulean seas, creating an enchanting vista that leaves even the most seasoned traveler spellbound. Befriend the renowned swimming pigs at Big Major Cay, and witness the carefree frolics of these delightful creatures in their aquatic playground.
Conclude your Bahamian odyssey at the serene and secluded Eleuthera and Harbour Island, where the mesmerizing pink sands stretch into infinity, inviting you to surrender to the sheer tranquility and untamed beauty of these hidden gems.
With each island unveiling its unique allure, the Bahamas invites you to embark on a Caribbean escapade that will etch itself into your soul, as indelible as the sand, sun, and sea.
Conclusion
The Caribbean offers a myriad of remarkable destinations, each with its own unique charm and allure. From the sun-kissed shores of Barbados to the captivating cultural tapestry of the Virgin Islands, these island paradises provide unforgettable experiences for every traveler.
Embark on an island-hopping adventure, immersing yourself in the vibrant cultures, breathtaking landscapes, and tranquil retreats that define the Caribbean's irresistible charm. So, go ahead and share your newfound love for these island gems by spreading the word about this blog, inspiring others to embark on their own unforgettable Caribbean journey!
Don't forget to share this blog with your friends and family, and let the Caribbean enchantment touch their hearts as well.
---
---
---