Join the Nha Trang Boat Party and embark on an unforgettable adventure in Vietnam's coastal gem. Discover the ultimate party experience, thrilling activities, and captivating destinations. Dance to energetic music, indulge in delicious food and drinks, and create lasting memories with new friends. Book now for an incredible journey in Nha Trang!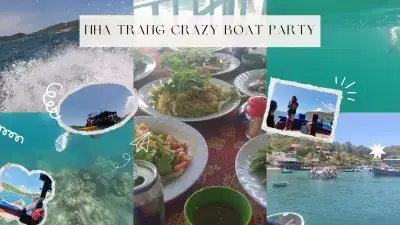 ---
---
Welcome to Nha Trang, Vietnam's coastal gem, where sun-kissed beaches meet electrifying boat parties. If you're seeking an experience that blends fun, laughter, and music, then the Nha Trang Boat Party is your ultimate destination. Join us as we dive into the vibrant world of this fantastic adventure, from the exhilarating activities on board to the picturesque destinations that await you.
Embarking on the Nha Trang Boat Party
As you step foot on the party boat, an air of anticipation and excitement fills the atmosphere. The friendly crew welcomes you with warm smiles, making you feel instantly at home. Find yourself a comfortable spot on the boat, whether it's a cozy seating area or the sun-soaked deck, and prepare for an unforgettable journey.
The Ultimate Party Experience
Get ready to immerse yourself in an electrifying party atmosphere that sets the tone for an incredible experience. The Nha Trang Boat Party is famous for its energetic music, high-octane DJs, and a crowd of enthusiastic party-goers from around the world. Dance to the rhythm of the beats, socialize with like-minded travelers, and let the energy of the party flow through you.
Adventure and Activities
The Nha Trang Boat Party isn't just about dancing and celebrating; it's also an adventure-packed experience. Dive into the crystal-clear waters and embark on a snorkeling adventure, exploring vibrant coral reefs and swimming alongside colorful marine life. For the thrill-seekers, indulge in exhilarating water sports like kayaking or jet skiing, adding an extra dose of excitement to your day.
Delicious Food and Refreshing Drinks
As the party unfolds, indulge in mouth-watering delights and refreshing drinks that keep you energized. Sample the flavors of Vietnam with delectable local cuisine or savor international dishes that cater to diverse tastes. The fully stocked bar offers an array of refreshing beverages, including signature cocktails, ice-cold beers, and non-alcoholic options, ensuring everyone finds something to quench their thirst.
Captivating Destinations
Prepare to be captivated by the stunning destinations that await you during the boat party. Cruise through turquoise waters, stopping at secluded beaches where you can bask in the sun's warm embrace or take a leisurely swim. Discover hidden coves and picturesque islands that showcase the natural beauty of Nha Trang. Immerse yourself in the local culture by visiting charming fishing villages, where you can witness the livelihood of the coastal communities.
Unforgettable Memories and New Friendships
Beyond the breathtaking scenery and thrilling activities, the Nha Trang Boat Party fosters a sense of camaraderie and adventure. As the day unfolds, you'll forge new friendships, create lasting memories, and share laughter with fellow travelers. The bonds formed during this adventure are the kind that transcend borders, leaving you with unforgettable moments and stories to cherish for a lifetime.
Nha Trang Boat Party options
The Nha Trang Boat Party offers a variety of options to suit different preferences and interests. Here are some of the options available for this day tour:
Standard Boat Party:
This option includes the thrilling boat party experience with a lively atmosphere, vibrant music, and the chance to dance and socialize with fellow party-goers. Enjoy the amenities on board, such as comfortable seating areas, sun decks, and a fully stocked bar. This option is perfect for those seeking a fun-filled party adventure on the beautiful waters of Nha Trang.
Snorkeling and Boat Party Combo:
For those who want to combine adventure with partying, this option offers the best of both worlds. Dive into the crystal-clear waters of Nha Trang and explore stunning coral reefs and marine life during a snorkeling session. Afterward, hop aboard the boat party and continue the excitement with music, drinks, and dancing.
Water Sports and Boat Party Combo:
If you're an adrenaline junkie, this option is ideal for you. Experience the thrill of engaging in water sports activities like kayaking or jet skiing before joining the boat party. Enjoy the exhilaration of speeding across the waves and then unwind with music and festivities on board.
Scenic Destinations and Boat Party Combo:
For those who want to combine sightseeing with a boat party, this option allows you to visit picturesque destinations along the Nha Trang coastline. Explore hidden coves, visit scenic fishing villages, and relax on secluded beaches, immersing yourself in the natural beauty and cultural experiences of the region. After the sightseeing excursion, join the boat party to celebrate and have a memorable time.
Please note that the availability of these options may vary, and it's recommended to check with the tour operator or website for specific details and any additional options they may offer.
Ready for an unforgettable adventure in Nha Trang? Dive into the crystal-clear waters, explore stunning islands, and snorkel amidst vibrant marine life. Book your Nha Trang Islands Tour and Snorkeling experience now on GetYourGuide for an incredible day of exploration and adventure. Don't miss out on this opportunity to create lifelong memories. Click here to secure your spot!.
Popular operators that offer Nha Trang Boat Party tours
While specific tour operators may vary, here are some popular operators that offer Nha Trang Boat Party tours:
Vietnam Fantastic is a well-known tour operator that offers a range of tours and experiences in Vietnam. They provide the Nha Trang Boat Party tour, including various options such as standard boat party, snorkeling and boat party combo, and more.
Nha Trang Fun Divers is a reputable diving and tour operator in Nha Trang. In addition to diving experiences, they also offer the Nha Trang Boat Party tour, combining snorkeling or diving with the boat party for an exciting day of adventure and celebration.
The Nha Trang Sailing Club is a popular venue known for its vibrant atmosphere and events. They organize their own boat parties, providing guests with an unforgettable experience of music, dancing, and fun while cruising the beautiful waters of Nha Trang.
Booze Cruise Nha Trang specializes in boat party experiences, offering an exhilarating journey filled with music, drinks, and entertainment. They are known for their lively and energetic boat parties that attract a fun-loving crowd.
When planning your Nha Trang Boat Party tour, it's recommended to research and contact these operators directly to inquire about their availability, schedules, and any additional details you may need.
Conclusion
The Nha Trang Boat Party promises an extraordinary experience that blends vibrant parties, thrilling activities, and breathtaking destinations. It's an invitation to celebrate life, to dance under the sun, and to embrace the beauty of Nha Trang's coastal treasures. So, pack your party spirit and embark on this unforgettable adventure. Book your spot on the Nha Trang Boat Party and get ready for a journey that will leave you with memories that will last a lifetime.
---

About the author - Michel Pinson
Michel Pinson is a Travel enthusiast and Content Creator. Merging passion for education and exploration, he iscommitted to sharing knowledge and inspiring others through captivating educational content. Bringing the world closer together by empowering individuals with global expertise and a sense of wanderlust.
---
---
---