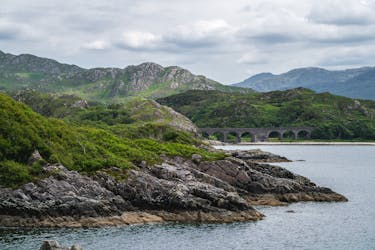 ---
---
If you will be braving the snow of Scotland's Mountains in the winter, ice axes and crampons will be the tools of choice — and you must learn to use these tools properly.
And that is only the beginning of the vast amount of practical and theoretical knowledge that must be applied when on this particular Scottish adventure. In the words of t local safety campaigns, you must 'Think Winter.'
Remember that the route descriptions found on Walk Highlands describe the summer walking experience. It seems needless to say that during the winter these same treks can be considerably more challenging and dangerous — requiring greater skill with more advanced equipment.
So, you're staying in a town in the highlands such as Pitlochry. Remember that time is a crucial factor in planning your Pitlochry breaks. Remember you will have very few hours of daylight at these latitudes and every step you take will increase your fatigue. Walking through snow can drain your energy fast, even though there are some days with bright sunshine and easier walking, the weather is still an issue. Walking on a windy day means you will have to stop and renavigate every so often to avoid losing your way. Walking through snow also means you will drain your energy faster — as we say around here, 'when it's great, it's GREAT — but. It's still hard.'
Snow can act as a physical barrier across your path, it can also hide the terrain around you. Regular features that can help with navigation, like paths, signposts, streams, and even entire lochs, can be concealed under a thick white blanket making it very easy to get turned around — and the consequences of a small navigational error can be fatal.
The tools of the trade
If you will be ambling over hill and dale in the Scottish highlands, there are some specific tools you will need. The ice ax is the most basic and important tool to have on hand. It will provide support, security, and help with minor tasks like cutting steps in the ice, digging a shelter, and of course, stopping your slide in case of a fall.
In addition to your ice ax and crampons, you may need to reconsider the clothes you will be wearing on your hike. Boots will need rigid soles for use with crampons, you will need at least a few layers of thermal clothes, a flashlight, extra batteries, a spare torch, and sunglasses or winter goggles.
Learning the skills
It takes practice to learn to use the ice ax and crampons effectively. Don't take this too fast, practice training on the safe ground before you begin practicing on the trail.
For best results, always carry the ax in your uphill hand and move methodically and rhythmically. This will avoid the wasted energy involved with spurting forwards, meeting instability, and stopping to regain balance. You can use the edge of your boot to kick in steps. To do this, your boots will need a rigid sole. Wear these crampons whenever you find your boots are not creating steps. Be sure to put them on before you reach terrain that could be unstable.
Route Choice
The Scottish hills are a beautiful site in the winter and provide endless opportunities for adventure. But, make sure you have chosen a route that will be challenging but not a fight for dear life. Consider these other pointers when heading out into the highlands of Scotland.
Weather
Bad weather can turn a fine day into a scary life and death situation. Here are some of the main factors you will need to consider:
Wind direction
Wind speed
Temperature
Precipitation
The weather forecast
How long do you plan to take on the trail and if you will safely return by nightfall?
The prevailing avalanche risk
How does the route compare with the last route you took in this category? Is it longer? How long did the last route you completed take you to complete?
Are there any specific hazards involved with this route that you should be aware of? Some examples may include steep crags, rivers, deep snow, ice, etc.
Never hesitate to turn the entire trip around and head back if it looks like you will be heading into bad weather.
---
---
---