Which ways are you using to get the cheapest airline tickets available? Booking early? Identifying the cheapest day to fly out?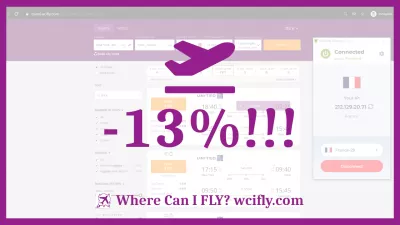 ---
---
Use VPN to book cheap flights
Which ways are you using to get the cheapest airline tickets available?
Booking early?
Identifying the cheapest day to fly out?
Using the best flight search engines?
They are not all good options to find the cheapest airline tickets available. Let's celebrate, because today you are going to know an extremely useful method to get insanely cheap flights: using a VPN to book plane tickets with a private internet access.
What is a VPN?
A VPN, or Virtual Private Network, is a connection method used to add security and privacy to private and public networks...
Way too technical to define a private internet access!
A VPN is a service that helps you stay anonymous on the internet. The key to this service is that it will temporarily change your real IP address to a different one so you will have a completely different identity in the online environment.
Some VPNs have a free trial or offer free servers to connect from. Check the best VPN information and select the one that works best for you. Then, once you got one installed on your computer, simply follow below guide to find  cheaper flights   using your VPN!
Why can a VPN help you get cheaper flights?
There is a sad fact that you will wish you knew earlier: Travel agencies can easily adjust rates based on a client's IP address. In most cases, they increase prices for regions where there is a high demand for flights, and decrease prices for areas where they have fewer clients with the hope to attract more ones. These companies track your location through your IP address and display prices based on your area.
So, if you use a VPN to change your area into one where the demand for flights is lower, you may be able to buy tickets at much cheaper prices!
How to get cheaper flights with a VPN?
Of course, you must have a VPN first. There are dozens of VPN  private internet access   services on the internet nowadays; However, according to many reviews, FreeVPNPlanet is currently the fastest, cheapest and most comprehensive VPN service.
Buying and installing a FreeVPNPlanet only takes about 1 minute. Once the green light is on, you can connect to the country you want and  book flights   at a lower rate.
Here are the steps to search for  cheaper flights   through a VPN private internet access:
1. Access well-known  flight booking   websites like KAYAK.com or  Where Can I FLY?   without using a VPN.
2. Search for the flight you would like to book and note the prices.
3. Run the FreeVPNPlanet application and connect to a country where the prices can be lower (normally a third world country).
4. Open an incognito window.
5. Find the flight you did in step #1.
6. Compare prices.
7. Repeat steps #3 to #6 to find the best prices.
FreeVPNPlanet provides you with some tips to buy cheaper tickets with a VPN as follows:
Change your IP address to a low-income country such as Indonesia, Vietnam, or Ukraine - you may get significant discounts.
Change your IP address to the one that belongs to the airline's country (e.g. if you want to visit Malaysia, choose this country from the list of FreeVPNPlanet servers). The airline's website may see their country address and can offer rates for their fellow citizens or some good discounts.
That is, we can make an obvious conclusion about the  Best VPN   location for booking airline tickets. The main thing is to study in detail the economy of the country you plan to visit and choose the right location for the vpn.
Follow the instructions above, choose a country where there will be less demand for flights and you can get a great discount!
Agree that this way your trip will be much more pleasant and you can always pamper yourself with the saved money.
How to get cheap flights with VPN? Example
Let's have a look at a real example how to use VPN for cheaper flights, trying to find  cheap flights   on a random connection NYC-SIN.
First of all, to be able to compare, we first have to look for a standard cheap flight, for example a New York – Singapore round trip, using private web browsing on Chrome, and have a look at the prices: the cheapest price found is at 681€ through Istanbul airport using Turkish Airlines and browsing prices with a standard IP address on a local connection in Poland.
Now, let's connect with RUS VPN in France for example, which can be a good country to buy tickets as they have many companies competing against each other.
After connecting with the VPN, and simply reloading the page, still on private browsing, and wait for results.
Can you get cheaper flights with VPN? Yes, by changing the buying country you can find cheaper flights with VPN
Surprise, the final price is 593€ for the same round trip flight with the exact same company.
A whopping 13% discount simply by using the cheapest  Best VPN   to  book flights   and having a look from other countries for the same round trip!
Other advantages of FreeVPNPlanet
Not only does a FreeVPNPlanet  private internet access   bring you cheap flights, but it can also help you:
Get cheaper online orders
Protect your data better
Watch your favorite movies in blazing-fast HD
Unblock censored sites
Too many benefits for $4.99 per month, right?
Conclusion
You have just known another way to get cheaper flights, cheaper vacations, and many more. So, what are you waiting for? Purchase a FreeVPNPlanet  private internet access   now – you will never get overcharged for online deals again.
How To Use VPN To Book Cheap Flights
---
---