What is the most picturesque destination where you can fly in June? We've asked experts for unique and original ideas, and here is where they recommend to fly in June, and why!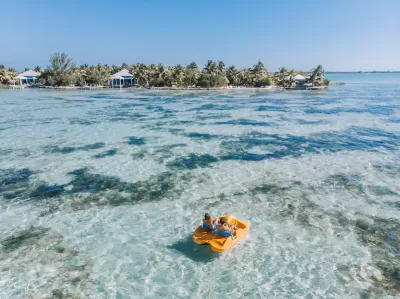 ---
---
Bali, Indonesia: try surfing for the first time!
The best place to go for a vacation in June is Bali, Indonesia. During this time, the weather is perfect, not during rainy season, the sun is always shining, and the waves for surfing are great for all levels.
Check June flights for Bali, Indonesia
I've been there twice before and would definitely go back! Compared to my first visit, the amenities and convenience has increased drastically, from paved roads between all the attractions, credit card machines at every restaurant, to super fast wi-fi for remote working. The best activities are definitely to walk around Tegallalang Rice Terraces, visit the water temple Tirta Gangga, island hop to Gili Meno, learn the local language Bahasa Indonesian or try surfing for the first time!
Danielle is a NYC corporate escapee, social media influencer, and Founder of The Wanderlover. She is passionate about inspiring and helping others design freedom-based lives they love through online entrepreneurship.
Ooty, India: a land of lush hills and mesmerizing tea gardens
There is never a bad time to visit Ooty. However, the best time to visit Ooty would definitely be June! Ooty is a land of lush hills and mesmerizing tea gardens and a lake that is truly pristine in every sense of the word.
Check June flights for Ooty, India
Considered to be one of the most romantic destinations in India. A trip to Ooty in June will make you go weak in the knees.
The Castillo de San Marcos was once one of the largest fort towns
Whether you're taking a road trip across the country or flying to a foreign place, traveling in June relies on the weather.
For most people, the summer months mean sitting on the beach and turning pale skin into a golden masterpiece. If you fall into this category, the East Coast of Florida is filled with the most fantastic beach towns in the world.
At the top of my list is St. Augustine. An ancient city built near The Castillo de San Marcos was once one of the largest fort towns in the Spanish armada. St. Aug (as the locals call it) is home to a stretch of coastline made for surfers and sunbathers alike.
Check June flights for Castillo de San Marcos
Additionally, the nightlife and eateries in the town are some of the best in the state. Check out Saint George St. for all of your tourist needs. If you're into ancient lore, Ponce de Leon's infamous Fountain of Youth is worth a visit, also.
No matter what you enjoy, the weather, scenery, and attractions make St. Augustine the best place to visit in June. Just make sure you pack shorts and sunscreen.
Spain, France, Portugal: sunshine, ocean and closeness of nature
For holiday destinations I would recommend Spain, France, Portugal. I have spent my time in those places every summer, winter, spring. I would live there and actually I am moving to Portugal and opening my own tourism related business to there. I wouldn't know if anything has improved, rather nothing has gotten worse. Perhaps water quality has improved. Reasons to go is sunshine, ocean and closeness of nature. And food and perhaps the way people see life. Person's base happiness is combination of nature, closeness of water and warm weather temperature.
Check June flights for Spain, France, Portugal
I would suggest to have active holiday. Activities one can perform in those countries are for example surfing.(I love surfing). I have seen many people go from crappy to happy just on the beach with some surfing activity, in one week. From white pale skinned hunched person to straight back smiling person. Anyhow recommending holidays near the beaches, away from cities, some water sport in France, Spain and Portugal.
If you look specific place then Hossegor in France has ocean, lake, largest forest. Laid back environment with people walking barefoot, tanned, sunscreen still on the face mixed with fancy french restaurants and old ladies with their tiny dogs. Or San Sebastian in Spain. Big enough to get lost and small enough to find everything. And one can have road trip between Hossegor to San Sebastian and then visit all those towns inbetween. For example Saint-Jean de Luz.
Iguazu Falls offers safaris, sailing through the waterfalls, riding jungle trains, and more
Iguazu Falls are for sure a jaw-dropping experience themselves, and UNESCO confirmed naming them as World's heritage. These stunning falls and cascades are placed on the border of Argentina and Brazil.
Check June flights for Iguazu Falls
June is the best time to visit as temperatures are moderate: this area has tropical weather meaning that during summer temperatures might reach 100°F easily. That's June (during the autumn-winter season) you will find it more pleasant to enjoy the many activities Iguazú offers like safaris, sailing through the waterfalls, riding jungle trains, and learning more about local culture and native wildlife within a safe and control environment.
Cinque Terre, Italy for stunning panoramas
In my opinion, Cinque Terre, Italy is a great destination to visit in June.
There are fewer crowds during this month, which is an important aspect since the villages are a famous attraction in Italy. The weather is also more pleasant than in July or August. However, it is still possible to take a dip in the sea, if you don't mind the slightly lower temperature of the water.
Check June flights for Cinque Terre, Italy
The villages are very picturesque and even though many people only visit them as a day trip it is really worth spending at least a night in one of them (or even in several). This way you will have the chance of seeing the place after most of the tourists leave when it has a different, more quiet feel to it. I stayed in Manarola for two nights and I suspect that this is the main reason for which it's my favorite of the five.
While the best thing to do here is to leisurely explore the villages, there are also a few trails that you can take for stunning panoramas. The one that connects Vernazza village to Monterosso al Mare offers a great view of the former with the sea acting as a backdrop.
I'm Andreea, a DIY travel enthusiast and I visited 30 countries to date. I am also the owner of the andoreia.com travel blog through which I try to help others plan their own vacations.
Barbados for unspoiled views of the ocean
Barbados is a small, oval-shaped island located about 35 miles from the eastern coast of Venezuela. Barbados has a humid tropical climate with an average temperature of 80 degrees Fahrenheit. Barbados is known for its year-round sunny weather, which makes it the perfect destination for those who are looking to unwind on pristine beaches. This Caribbean island is known for its crystal-clear waters and lush vegetation.
Check June flights for Barbados
There's something for everyone, whether you prefer a relaxing day at one of the resort-style beaches or exhilarating water sports, in Barbados. You can even explore the island's rich history on foot!
If you want to learn more about the island's history, visit Bridgetown and explore historic buildings dating back to the 1700s. The city has many great restaurants serving traditional dishes made with locally grown produce and seafood caught in the surrounding waters. Be sure not to miss Cheapside, where you'll find all sorts of items, including traditional Bajan spices, straw baskets, and batik products.
For those who want to explore the island's natural beauty, you can't go wrong with a visit to Barbados' west coast. Be sure to check out Needhams Point, St. Nicholas Abbey, and Cherry Tree Hill for unspoiled views of the ocean.
North Georgia: The rhododendrons will be in full bloom
North Georgia and Western North Carolina are excellent choices for a vacation or road trip in June. The heavy pollen has waned and the deep green of the woods is very beautiful. The rhododendrons will be in full bloom in June which will line the creeks and waterfalls with large white flowers. The early spring rains will engorge these creeks making the waterfalls their most picturesque of the year.
Check June flights for North Georgia
The weather is very mild this time of year as well. Not cold and not too hot. (Usually between 50-80F) I operate a fly fishing guide service which will be peak season in May. Around North Georgia there are a plethora of wineries, mountain town shops, and several festivals in late spring. Please let me know if you have any other questions as I am sure I left several things out.
Georgia country for three things - people, sights, and food
Georgia, a small country located on the Caucasus, is my top 1 travel destination ever. I've visited it in February 2016, September 2019, March 2020, and June 2021. The last trip was the best one. I loved it so much that this June I'm going there again!
Check June flights for Georgia
What's so special about Georgia? I would point to three things - people, sights, and food. Georgians are highlanders of flesh and blood. They are tough, uncontrollable, but at the same time, extraordinarily hospitable and know how to have fun. Although it is a small country, it is very diverse. You can find there both seaside resorts like Batumi and the breathtaking mountains of the great Caucasus (over 16,000 feet!). Georgia is also the home of wine. Really! The viticulture tradition there goes back even 7,000 years. It is delicious, cheap, and goes well with incredibly tasty food. Georgia is constantly developing its road and tourist infrastructure. Although it is more and more visited by tourists, it still has its own unique atmosphere.
You can really do a lot in Georgia. If you are a fan of sightseeing, history, and culture, you can visit ancient cities like Uplistsikhe. For enthusiasts of active leisure, Georgia offers amazing trekking in the mountains, rafting, canyoning, or my favorite off-road. June is a perfect month for each of them. An absolute must-do is supra, a Georgian feast with traditional toasts. But be warned, get ready for long party hours, thousands of calories, and liters of wine.
Cayo Espanto (Belize) and Ocean Club Resorts (Turks & Caicos)
Cayo Espanto, Belize
Home to seven villas total and located three miles off the coast of Belize, Cayo Espanto is a private island resort perfect for a barefoot luxe escape this June. Each villa comes equipped with a personal butler, private dock area and customized meals set by the on-island world-renowned chef - allowing both guests' tastebuds to be satisfied. The resort's ability to tailor activities based on preferences enables travelers to ensure they are having the time of their life.
Check June flights for Cayo Espanto, Belize
Fishing lessons on a private dock can be enjoyed with indulges in a tropical spa treatment set to the sounds of the Belizean waters next followed by watching a movie under the stars. The hidden gem is open to U.S. travelers and provides an array of unique underwater (the destination is within a short boat ride from the world's second largest coral reef) and rejuvenating on-land features to enjoy this summer.
Ocean Club Resorts, Turks & Caicos
Located directly along the world-renowned Grace Bay Beach and turquoise waters of Providenciales, Turks and Caicos, sits Ocean Club Resorts, two all-suite properties that provide the ideal location to activities on the island direct beach access for guests to enjoy without going overbudget. The spacious accommodations range from studio to three-bedroom and provide comforts of home such as a full kitchen or kitchenette, screened in patio, and more - making holiday travel easier for all ages.
Check June flights for Ocean Club Resorts, Turks & Caicos
Included in each stay are onsite complimentary bikes, tennis courts, kayaks, SUP boards, beach/pool loungers, a Kids Seafari program where younger guests are also able to learn about their surroundings while staying at either property. The resorts provide a range of activities and amenities for families and multigenerational travelers to enjoy. With the island overall seeing a lot of travel during the harsh winter months of January and February and then many families flocking to the destination for spring break, June is an ideal timeframe to enjoy the affordable gem.
Minnesotas' North Shore is so charming
One of my favorite places to visit in June is Minnesotas' North Shore. It is so charming & everything has come to life just after spring. We visit every year during different times of the year & find all seasons to be great up there however - during mid-June the temperatures are very pleasant.
Check June flights for Minnesotas' North Shore
I would suggest visiting Split Rock Lighthouse, Tettegouche State Park, Gooseberry Falls State Park & Palisade Head for some wonderful views of Lake Superior, waterfalls & trails if you enjoy hiking.
Bergen, Norway as a starting point to visit the Norwegian Fjords
In the summer, it's hard to beat Norway when it comes to stunning landscapes. Especially the city of Bergen, on the Atlantic west coast, as a starting point to visit the Norwegian Fjords.
Bergen is known as "The Heart of the Fjords" - a large city with a small-town charm. The historic wharf welcomes you with the bustling historic fish market and the funicular railway Fløibanen takes you to the top of the mountain Fløyen for breathtaking views of the town below.
Check June flights for Bergen, Norway
Just 2.5 hours away by train is Flåm and it is well worth the trip. Flåm is nestled inside the very heart of the Norwegian Fjord called Aurlandsfjord. It's a favorite destination that we have visited several times for nature hikes.
Almeria captivates with its immense and unobstructed landscapes
Every kilometer of Almeria captivates with its immense and unobstructed landscapes. Its sea and that taste for the quiet life that seduces so much. The variety of attractions of Almeria allows you to discover a different facet in each trip, with the advantage that you can travel at any time of the year.
Check June flights for Almeria
In winter, it surprises you with bright days, pleasant temperature, and less affluence than in high season, which allows you to make a route, almost in solitude, by those infinite roads that cross the Cabo de Gata or enjoy tapas of the capital.
Delaware Discoveries Trail is made up of 13 thirteen pieces of interactive street artwork
Delaware has a (relatively new) attraction that's been gaining popularity via social media as a fun and picturesque "interactive" destination for travelers (especially younger generations).
Called the Delaware Discoveries Trail, it is made up of 13 thirteen pieces of interactive street artwork, installed at photo-worthy locations throughout the state (museums, parks, gardens, music festivals, breweries, wildlife refuge, etc.).
Check June flights for Delaware
Its appeal lies in its payoff for travelers – not only do they get to see some great art in a cool setting, they can snap an "insta-worthy" photo of them in front of the art for posting on their social media pages. Participants who submit four tagged #DelawareDiscoveries photos taken with the artwork are automatically entered for a chance to receive a limited-edition prize.
The art was made specifically for the trail by rising young Delaware artists. Here is an example of post by visitor from IG:
Crete, Greece has something for everyone
Crete, Greece is the perfect destination for June vacations. Most people think of more highly marketed Greek Islands like Mykonos or Santorini, but Crete is by far the most beautiful and engaging. It has something for everyone: seaside cities with great restaurants and museums, amazing beaches (especially the remote ones), delicious cuisine (world's best olive oil!), friendly locals, mountains, canyons and great hiking.
Check June flights for
Our company's favorite thing to do in Crete is to hike and sea kayak the south coast. The sea and coastline are stunningly gorgeous, and quaint little villages are scattered along the shore. Hiking and/or kayaking from one little town to the next is simply paradisiacal. You soak up the sun all day, visit the secret beaches that 99% of travelers miss, and work up an appetite for the evening taverna visit. We have been there almost every year for the past 25. Each year it seems the roads get better, and it gets easier for non Greek speakers to find their way around. It's easier and cheaper to fly there too.
Portugal: We saw Roman ruins, fighting bulls, horses, ruined castles, ancient towns, ...
My family and I went on a three-week exploration of Portugal in June of 2021.
We spent three weeks exploring the Alentejo. We saw Roman ruins, fighting bulls, horses, ruined castles, ancient towns, massive cork forests, Atlantic beaches, olive groves, wineries and met so many kind people.
Check June flights for Portugal
The Alentejo was the perfect place to escape to for a unique, safe experience. There is so much hiking, open spaces, and so many uncrowded beaches; it makes up 30% of Portugal and is home to 5% of the country's population. That seemed just right.
We stayed in smaller towns and rural inns and we skipped Lisbon, heading straight to the Évora area, where we found everything open, and uncrowded.
At one point, we had the Cathedral of Évora nearly all to ourselves. We did find that booking a table in advance at popular eateries was a good idea not because of crowds, but because of safety protocols in place.
One of many examplesof local kindness was the older man who walked us to an eatery we could not find in Arraiolos. And there was the potter who was proud of reviving a centuries-old tradition, the chef whose food was an extension of his view on life and the inn owner whose art defines his farm.
Roads were open, as were museums, churches and monuments. Prices were quite fair, and cancellation policies were generous. We felt welcome, safe, warm, and happy. And one thing is for sure, the people of the Alentejo somehow are able to remember something about life that others have forgotten. We will be back.
Big Bear Lake, California if you want to spend your time out on the water
For June, a great vacation is Big Bear Lake, California. In the Winter, you have to have chains on your tires and you could get trapped in bad weather, so Summer is a much better time to go! There is a riverboat that does tours around the lake. You can also rent or bring your own boats, jet skis, kayaks, etc. if you want to spend your time out on the water.
Check June flights for Big Bear Lake, California
The village has lots of great restaurants and shops. My favorite restaurant is The Himalayan Restaurant for their butter chicken. When it cools off in the evenings or early mornings, Copper Q is a great stop for coffee or hot apple cider.
In the neighboring area there is a zoo, ropes courses, a mountain coaster, hiking and biking trails, and more. I recommend renting a cabin in Big Bear Lake to make the most of the whole experience. This has been a regular destination for Californians for years and it has always continued to uphold its reputation and is always getting better.
Equatorial Guinea, a place of recreation that you cannot miss
In the month of June, I recommend visiting the continental area of Equatorial Guinea, more specifically the beaches of Utonde. While the rainy season is already started in our neighbors from Bioko Island, here we still enjoy a sunny month and perfect for the beach. The best example of this is the beach of Utonde.
Check June flights for Equatorial Guinea
Just 5 minutes from Bata airport, and 15 minutes from the city center, Utonde represents the best place to relax any weekend. Its smooth tide beach and constant temperature cause furor among the citizens of Bata. Furthermore, in the immediate vicinity we can find a sports complex where you can rent jet skis, boats and different recreational vehicles to go up the mouth of the river utonde to the river Ue.
In short, a place of recreation that you cannot miss this month of June.
Boulder is a gorgeous growing city, nestled at the base of the Rocky Mountains
June is a great month to travel out to Colorado thanks to the abundant sunshine and mild weather. While many vacationers are headed to the beach, consider traveling to the mountains of Boulder, Colorado. Just a short drive from Denver, (and the Denver airport) Boulder is a gorgeous growing city, nestled at the base of the Rocky Mountains. Prepare  your camera   for beautiful views looking up at the mountain range from town, looking out over the valley from Chautauqua Park and atop the Flat Irons, and taking in the range from the pristine Boulder reservoir.
Check June flights for Boulder, Colorado
Beyond the amazing views, Boulder is a great spot to visit (and visit, and visit again!) as the town is always opening a new restaurant, gallery, or show. With amazing food, music, festivals, recreation, and more, Boulder is a great destination for solo travel, couples, families, and more! If you make it to Boulder, be sure to walk the downtown area and take in the smells of the amazing restaurants, take in the sounds of the street music and performances, take a bike trip up to Chautauqua Park, hike the Flat Irons trail, go paddleboarding in the Boulder Reservoir, visit the University of Colorado at Boulder campus, and check out the surrounding national parks and hiking areas.
I am the co-founder of Flashpacker Co where we write about travel gear, unique destinations, the digital nomad lifestyle and provide general travel tips. I have been a digital nomad for the past 5 years traveling all across the globe exploring new countries, new cities, food, site, culture, and new passions all while working remotely.
Glacier National Park: There are breathtaking vistas and waterfalls around every turn
In mid to late June, the Going to the Sun Road opens in Glacier National Park, and visitors can traverse the Crown of the Continent, as the region is aptly named. There are breathtaking vistas and waterfalls around every turn. Because of the intense snowpack, these waterfalls flow most of the summer fed by the melting snow, but they flow best in June, the early season.
Check June flights for Glacier National Park
I have been to Glacier National Park many times, and I have a trip planned for this year. Their shuttle system has improved in recent years, and it allows visitors to enjoy the park without having to drive. It also eliminates the stress of finding a parking spot at overcrowded parking lots. My favorite part about the shuttle is that I can start at one point and hike to another and get picked up there. The park's natural beauty is pristine and has changed very little even with the increase in visitors.
Keweenaw Peninsula is recognized as one of the top adventure destinations in the Midwest
The Keweenaw Peninsula in Michigan's Upper Peninsula is full of breathtaking scenery, pristine wilderness, and fascinating historic remains of the copper boom that took place here. This narrow peninsula juts into the fresh waters of Lake Superior and visitors are never more than a 20-minute drive from the shoreline. The Keweenaw is recognized as one of the top adventure destinations in the Midwest and invites you to hike, pedal, paddle, and ride countless miles of world-class outdoor recreation trails.
Check June flights for Keweenaw Peninsula
June is a lovely time to visit the Keweenaw. The forests are every shade of green and full of blooming plant life. The spring snowmelt continues to feed the streams and rivers that flow into several waterfalls throughout the area, and many of these waterfalls are easily accessible on scenic drives that follow the Lake Superior coast up to the tip of the peninsula. The Keweenaw Peninsula features unparalleled beauty that is almost indescribable even for a native of the area, like myself. Each day brings magically picturesque moments, and for visitors, these moments will keep them coming back for more year after year.
Antigua is very safe and the facilities where we stayed were top notch
My wife and I spent our honeymoon in Antigua last year. To call it picturesque may be an understatement. The island is absolutely gorgeous in the summer months and is tucked between the Caribbean Sea on the west and the Atlantic Ocean on the east. We have recommended it to all our friends and would definitely go back. I'm not sure that much has improved or changed there in the past 9 months.
Check June flights for
That is not to say that it was in a bad state, but quite the opposite. It was very safe and the facilities where we stayed were top notch. Something that I feel everyone must do is take a tour of the island. Antigua is only ~108 square miles. My wife and I did an island tour, which took about 8 hours. It was absolutely fantastic and allowed us to see every part of the island and learn about its history. We were also lucky enough to get some pictures at the most picturesque points on the island. All in all, Antigua was a phenomenal destination and I would definitely recommend it.
Estonia: you can go to the beach for a 10pm sunset and start your day early with sunrise at 4am!
I went in June, during the summer solstice, and I'd of course go again! The activities worth doing there are celebrating the Midsummer festival, and taking in all the incredible weather and long days that surround the
longest day of the year.
Check June flights for Estonia
There are festivals, and live music, and really just incredible weather and long days during which you can go to the beach for a 10pm sunset, walk around all evening in broad daylight and start your day early with sunrise at 4am!
Slanic-Molodva, Romania, you can enjoy the sunshine with the cool breeze
Albeit it's summer, the mountain resort area maintains highs of 20C, so you can enjoy the sunshine with the cool breeze.
Check June flights for Slanic-Molodva, Romania
There's a new spa resort which offers more treatments and uses new technology. Plus the trekking routes have been repaired.
Frequently Asked Questions
Should you visit Glacier National Park?

Yes, this is a really good holiday destination in June if you like spectacular scenery and waterfalls. It is in June that the waterfalls flow there at their best and tourists will be able to enjoy the maximum.
---
---
---