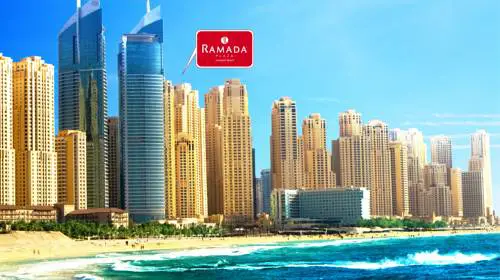 ---
---
Frequent travelers are always looking for ways to save money on travel costs. Those who plan to travel to Dubai may want to know how they can find lucrative deals, especially those which offer free hotel nights. if you're planning to visit Dubai and you'd like to learn about some insiders' bargains, here are five hotel deals you won't want to miss:
Caesars Palace Dubai - if you're already an Earned Diamond or Seven Stars Caesar's rewards member, you can parlay your membership perks into a 2-night Complimentary stay in the Dubai Caesars Palace. This offer is good up until January 2023.
2 Free Nights At Caesars Palace Dubai
Habtoor Grand Resort - Guests who stay here for seven nights will receive two of those nights free. This lucrative package includes breakfast. Habtoor is located near the Roxy Cinema and Bluewaters Island.
Emirates Is Offering Free Five-Star Dubai Hotel Stays With Its Economy Flights
Atlantis Palm - If you'll be staying in Dubai before the end of September, you can also get your seven-night stay for the price of five nights. This deal is good for stays at the Imperial Club rooms or their Suites and includes a free pass to the exciting Aquaventure water park for each night of their stay.
Free Hotel Nights for Dubai Breaks posted on Selling Travel
Premier Inn - This family-oriented hotel group offers a free third night for guests who pay for two out of three nights. If your trip takes you beyond Dubai, their offer extends throughout the Middle East. These hotels offer a free shuttle service to let you freely enjoy all the attractions Dubai has to offer. The Dubai Premier is near both the mall and the Dubai airport. The savings in this offer also extends to savings on drinks and dining; as well as deals on currency exchange and for entrance to the airport lounge. (4) Children age 15 or under can stay for free in these hotels as part of the deal.
Stay For 3 Days and Pay For 2
J W Marriott Marquis - Emirates Airlines offers free stays at their; luxurious 5-star hotel for those who book a return flight to Dubai. The hotel boasts its own shopping gallery and mall, and it's located near the Burj Kalifa (the world's tallest building). (4) If you want to take advantage of this bargain, you'll need to snap it up, because it will only be available to book until December. However, you can use the tickets through February.
Here's How to Get A Free Night's Hotel Stay
Dubai travel guide
Dubai is undergoing modernization and interested travelers can take advantage of exploring its wide selection of stores, world-class eateries, or star-studded entertainment (read our Dubai real travel reviews). Dubai is becoming a popular destination for those who want to enjoy the charms of its beaches, museums, entertainment, and business. Dubai's distinctive skyline is only the beginning of its many popular attractions.
One very popular attraction is the Dubai Mall. This impressive mall offers something for everyone and boasts an ice rink, an aquarium, the famous Gold Souk, and a virtual reality park. Tourists who prefer to enjoy the water can ride a ferry in Dubai Creek ; or relish their water views during an unforgettable dining experience at the Dubai Marina.
Wherever you want to visit, be sure to grab one of these deals to enjoy a free hotel night in Dubai !
How to get free program rewards nights in Dubai
Going to Dubai, and wondering how to get free reward nights as fast as possible, which loyalty program to choose, or which hotel is best for your budget to get free nights in Dubai?
You will get one free night every 6 paid nights in Ramada Plaza Jumeirah Beach with Wyndham Rewards.
See the table below for details, best choices by budget are the following :
Comparison is considering lower Loyalty program member rate as shown on the program website, for the random night of 10th of April. Rates might change depending on your exact booking.
See also Best hotel membership loyalty rewards program to get free nights to choose wisely your hotel rewards program.
View Value of hotel points in case you only want to maximize your points, and look for the best program to redeem free nights.
Frequently Asked Questions
Is staying at Habtoor Grand Resort the best Dubai loyalty program?

This is one of the best options, because if you are going to stay here for seven nights, then you get two of those nights for free. Plus this lucrative package includes breakfast.
---
---
---