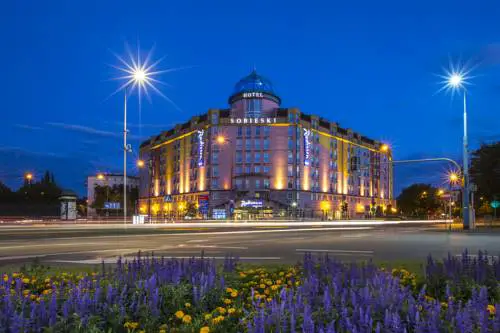 ---
---
Warsaw is a destination for everyone. It offers mesmerizing views, charming city streets, and beautiful parks and gardens, Warsaw is rich in history and old-world ambiance. Those who spend time there will enjoy a unique experience with their many museums and cultural sites - or take the opportunity to party in the Warsaw nightlife. Anyone who enjoys the hearty taste of Polish food can spend time in its world-class eateries.
Is Warsaw Worth Visiting?
International travel can put a financial strain on any traveler. So, if you want to save some money (and who doesn't?) here are some loyalty and reward programs you might want to look into before you book your trip:
If your group is planning a visit to Warsaw, take advantage of the group rates offered by Hotel Planner. They will not only find discounted room rates and services for the members of your group, but they also cover the cost of the group leader's room.
Warsaw, Poland Group Hotel Rates for Sports Teams, Weddings, Or Any Group
Hotel Planner can find group rates with up to a 70% discount. They can help you with activity planning, flight arrangements, and especially by providing hotel vouchers for free nights for your group leader. (8) Your fee will also include a local planner to assist once you arrive in Warsaw.
Radisson Rewards - membership in this loyalty program can provide up to 10 nights free for basic members at the Radisson Blu Centrum hotel.
Best Hotel to Get Free Reward Night in Warsaw
Located in the heart of the business district, this hotel offers breathtaking views while ensuring your business meetings will be able to take advantage of their technologically advanced meeting rooms. It also gives you a choice of three first-class restaurants onsite.
Our review of Radisson Collection Hotel, Warsaw
Hilton Honors - Hilton is acclaimed worldwide for the quality of their hotels, and Hilton Honors members can claim up to 9 free nights at the Hampton by Hilton Warsaw City Center. Your points will also gain you exclusive deals on gifts, dining, or Lyft rides.
Let's Get to the Points
SPG Rewards
SPG Rewards - these members can book up to 13 free nights at the Warsaw Westin. This hotel has a formidable presence in the center of town. It's near the Palace of Culture and Science, as well as many shopping outlets.
Be Well In the Center of Warsaw!
Other traveler loyalty programs may not offer free hotel nights, but their perks are worth considering. Check out these two notable options:
IHG Rewards Members - Rewards members not only score the best room rates but each night's stay gains each member points toward the other lucrative rewards. Points can accumulate and be used for reward nights. There are no blackout dates for using your rewards. You'll also enjoy free Wifi during your stay and you can take advantage of later checkout times. Members will find out the full range of details when they download and access the IHG app.
"IHG Rewards" on the IHG Rewards Warsaw website
LOT Polish Airlines
LOT - this travel organization is a member of Star Alliance. They are the world's largest travel airline alliance. Membership in their loyalty program will offer you discounts on shopping, car rental, and airline upgrades (read our LOT Polish arlines check-in procedure review).
As members' mileage accumulates, they can translate their mileage points into vouchers for hotels or extra comfort measures during their flights.
"LOT Polish Airlines" on Miles and More - the Lufthansa website.
Conclusion
Whatever your plans may be for your upcoming visit to Warsaw, you can take advantage of one of these offers and save money on your trip. Bon Voyage!
See the table below for details, best hotel choices in Warsaw for free hotel nights by budget are the following :
Frequently Asked Questions
What budget should you consider when choosing a hotel in Warsaw?

When planning your trip to Warsaw, you can consider any budget that suits you in choosing a hotel: from low-end to luxury. Everyone can find something that will be comfortable for you.
---
---