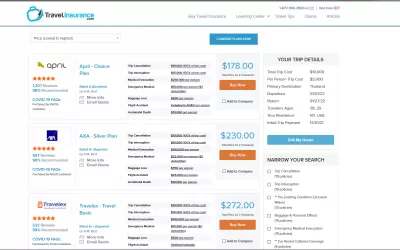 ---
---
Travel insurance is required to travel abroad. Without it, they do not arrange tours and do not make a visa. Getting sick or injured abroad without even minimal insurance is not only a dubious pleasure, but also a significant blow to your budget.
The insurance company is not responsible for the speed and quality of medical care, but the Service Center or Assistance - an intermediary between the insurer and the medical organization. He is also responsible for doctor call and clinic placement.
To find out who will serve you, you must carefully read the insurance terms and conditions. If a traveler falls ill while on vacation, he should call Assistance, and he will already contact and negotiate with doctors.
There are various types of insurance, from the personal one that also covers travels to most if not all countries, or the specific ones for a given period of time and travel location. Let's deep dive into this specific and very important world!
How travel insurance works
In general, you can insure anything, consider only the current types of travel insurance.
Basic medical insurance
The most budgetary insurance required to obtain visas, which costs several hundred rubles. It is inexpensive, but it is able to protect while traveling and provide a minimum set of services.
Depending on where the traveler is traveling, you can add options to this insurance: from assistance with a jellyfish bite to hospitalization for complications of pregnancy. If the traveler has allergies or chronic diseases, he is advised to write additional options into his policy. Going to a country where medicine is very expensive, you can take insurance for up to 50 thousand euros, and not up to 30, as in a standard policy.
Travel insurance for sports
Extended insurance option for fans of active and extreme recreation. It, of course, is more expensive than the basic one and depends on the type of activity that the traveler is going to engage in, they must be indicated during registration.
It should be noted that horseback riding, cycling, ATV and motorcycle riding is also considered an active recreation.
Luggage loss insurance
According to various sources, about 2% of  baggage   is lost every year during flights. Therefore, insurance companies offer to insure their suitcase along with its contents - so in case of loss, the traveler will at least receive compensation.
But also, as with any insurance, it is important to read the contract here: insurance does not cover money, jewelry and precious stones, documents, medical devices and many other expensive items. They are usually insured separately.
Hangover insurance
Yes, such insurance also exists, however, only one insurance company, the German ERV, has such a package of services so far. He guarantees medical care for diseases or injuries resulting from alcohol, drug or toxic intoxication. This is practically a unique service because most companies consider alcohol intoxication not an insured event.
Third party attack insurance
It will come in handy if a traveler travels to a country with a high crime rate, and simply if he fears that he may be robbed - there are a lot of thieves who profit from careless tourists even in prosperous countries.
Travel cancellation insurance
Such insurance compensates for the costs of the trip, if the traveler had to interrupt the vacation or cancel it altogether - they did not give a visa, forgot to pay taxes, or changed plans.
especially true for those who are planning a vacation half a year before the intended trip or more. This is one of the most expensive insurances, the cost starts from 8% of the tour price.
Travel insurance policy
For trips across Russia, a regular compulsory medical insurance policy is enough. But if suddenly a traveler loves extreme tourism and travels often, then he is recommended to take out  a travel insurance   policy.
In addition to basic medical care, it includes additional services: from extended diagnostics to transportation of the victim, if he cannot move independently, or will still be in the hospital at the time of departure with his tickets.
Insurers especially recommend thinking about such a policy to lovers of hiking, rock climbing and skiing.
What to look for when choosing insurance
You need to choose not the insurance company itself, but the assistance - it is with them that the traveler will deal if an insured event occurs. Feedback on the work of assistance can be found on popular specialized sites. It is important to remember that some insurance companies cooperate with several assistance services at once.
Insurance should be chosen without a deductible. A franchise is an amount that a company may not pay. For example, if the insurance has a deductible of 40 euros, and the doctor's bill is 60 euros, then the company will pay only 20 euros, and the rest of the amount will have to be paid out of pocket. In recent years, insurances with deductibles are not common, they are usually the cheapest.
Before buying, you can compare offers from different insurance companies. This can also be done on special comparison sites. To do this, you need to select a country, date of travel, the number and age of vacationers, the site will independently select and display all possible offers.
Insurance should be taken not date on date, but a little with a margin, especially if the traveler is waiting for a long and difficult flight with connections.
It is also important to visit the dentist in a timely manner - due to pressure and temperature changes, untreated teeth can hurt, and dental services, except for emergency ones, are not covered by any insurance company.
What do the terms mean
Policyholder (beneficiary, insured)
The policyholder (beneficiary, insured) is all of you, not three different people: this is what you may be called in the insurance contract.
Insurer (insurance company)
Insurer (insurance company) - an organization with which you conclude a contract, it pays for treatment and other expenses for an insured event.
Insurance case
Insured event - an event that is stipulated by the contract and for which the insurer will pay compensation. Anything that is not covered by your insurance is considered a non-insured event and will not be reimbursed.
Sum insured (coverage amount, liability limit)
Sum insured (coverage amount, liability limit) - the maximum that the insured will pay for you. This amount includes hospital expenses, medical transportation and everything else. If you have chosen to cover 30 thousand dollars, and a helicopter from the Kamchatka volcano cost 10 thousand, 20 thousand will remain for treatment.
Assistance (service company)
Assistance (service company) is your travel assistant. If you are sick, call the assistance, and they will call the rest. Their job is to call an ambulance, find a hospital, arrange transportation, and solve problems along the way.
Franchise
Deductible is the amount that the insurer may not pay according to the insurance contract. Most often, the franchise is unconditional, that is, it is paid in any case. For example, suppose you found insurance with a $ 30 deductible. On vacation, your throat hurt, and you went to the doctor who billed $ 45. Of these, you will pay $ 30 yourself, and $ 15 - the insurance company. Deductible policies are cheaper, but if an insured event occurs, the savings are likely to be lost. Therefore, experienced travelers prefer insurance without a deductible.
How insurance is paid
There are two insurance payment options: either the insurance pays the hospital directly, or you pay on the spot, and then the insurance will compensate you.
Service insurance
Service insurance is the most popular. This is when the insurance company sends money for treatment directly to the hospital. You don't pay the bills yourself, except in very rare cases: for example, a hospital in the jungle of Borneo only takes cash. In such a situation, the assistance will ask you to pay on the spot, and when you return home, the insurance company will reimburse everything.
Compensation insurance
Compensation insurance is when you pay for the treatment yourself, then collect the documents, bring them to insurance and get your money back. It should be said that such insurance is almost never found now.
When will travel health insurance work?
Stung by a jellyfish;
Stung by a jellyfish when learning to surf;
Insurance for sports and outdoor activities;
Fell down, lost consciousness, woke up - plaster cast;
He walked drunk, fell, lost consciousness, woke up - plaster cast;
Help in the presence of alcoholic intoxication;
Dined on local food and got poisoned;
Dined on local food, and gastritis worsened;
Help with exacerbation of chronic diseases.
How to upgrade basic insurance
To truly protect your insurance, add additional options to your base policy. Here are some ideas:
If you are going to trekking, skiing or surfing - add insurance for outdoor activities and sports. Check all the activities you are going to do;

If you want to conquer the seven-thousander peak - add not only sports insurance, but also search and rescue operations and helicopter evacuation;
If you suffer from stomach ulcers or other chronic diseases - add help with exacerbation of chronic diseases;
If you will ride a moped or motorcycle - add this option, it is called that. In order for the insurance company to reimburse everything without question, you need to ride in a helmet and with international category A rights;
If you are expecting a baby, add help in case of complications of pregnancy. Just keep in mind: few people insure pregnancy up to 31 weeks, more often up to 24 or even 12 weeks;

If you like to sit with a glass of wine - add help in case of alcoholic intoxication. True, only one insurance company has such an option - ERV, the program is called Optima. The rest of the insurers will not reimburse you if you were tipsy. Moreover, some will refuse to pay only if intoxication caused the accident, while others will not pay in any case. Hint: testing for alcohol content is rarely done, so it is important how adequate you will be in the opinion of doctors;
If you want to secure your belongings, add luggage insurance. If your suitcase is lost, you will receive $ 500-2000 for it (you choose the amount yourself when you draw up a policy). Without this insurance, the airline will pay - often $ 20 per kilogram;
If you are worried about your passport - add document insurance. In which case, you will be reimbursed for the cost of restoration;

If you're worried about getting stuck at the airport, add flight delay insurance. The plane will not take off faster, but you will be paid for every hour of waiting (except for the first 4);

If you do not want to pay for damage accidentally caused to another person, add liability insurance. If you accidentally bumped into another skier while sober, the insurance company will pay for the treatment of bruises and buy new skis to replace the broken ones;
If you are planning a vacation in advance, add cancellation insurance. In this case, if you are denied a visa or you fall ill two days before departure, the insurer will return the money for tickets, hotels and other paid services;

If you want a nest egg to restore your health, add accident insurance. Let's say you broke your leg on vacation. You will be treated on the spot with the usual travel insurance. And if you have an extended policy, then at home they will also pay compensation, which can be spent even on rehabilitation, even on a new smartphone.
Travel Insuranse is a dedicated organization that makes it easy to compare and buy travel insurance plans from all major insurers in less than five minutes.
In order to use the service, you just need to visit the site, where you will need to enter your trip information in order to find out the prices of different companies and compare them.
What can be indicated to receive up-to-date information:
Cost of the trip: both the total cost and the cost per person can be indicated. You must enter the total amount of your non-refundable and prepaid trips to be insured (air tickets, hotels, cruises);The main purpose
Main purpose: here you need to indicate the country in which you will spend the most time during your trip. You must choose from the list;
Travel dates
Travel dates: the date of departure and the date of return are indicated here;
Number of travelers
Number of travelers: you can specify from 1 to 10;
Traveler's age (for today);Permanent residence
Permanent residence: you can choose the USA, Canada, and there is also the option "I / we live outside the USA or Canada". You also need to select a state from the list;
Citizenship;Original payment date
Initial payment date - here you need to select the initial date when you paid for the trip in whole or in part. If reward points were used when booking and no actual payment was made, then it is considered that you have not purchased the ride yet.
★★★★⋆
travelinsurance.com Travel insurance
 Travel Insuranse is a dedicated organization that makes it easy to compare and buy travel insurance plans from all major insurers in less than five minutes.
Frequently Asked Questions
Will travel insurance protect me from an accident while traveling?

Of course, insurance will not protect you from accidents, natural disasters, illnesses and other unpleasant things. But it will help cover your losses after such troubles.
---
---
---